INTEGRATIVE SKIN EXPERTS IN MEDICAL, PEDIATRIC AND SURGICAL DERMATOLOGY
Come In Today And See Why We Are The Top-Rated Dermatology Clinic In Sacramento.
WELCOME TO
PACIFIC SKIN INSTITUTE
We are a full spectrum adult and pediatric medical, surgical and cosmetic dermatology practice with unique expertise in integrative skin health and wellness and cutting-edge clinical trial research.

Our Physicians, Physician Assistants and Nurse Practitioner effectively care for all your skin health needs by integrating the most effective and latest prescription products and procedures, as well as, clinically proven herbal, botanical and natural treatment modalities.
This comprehensive approach allows our providers to tailor an individualized treatment plan for your skin health and wellness.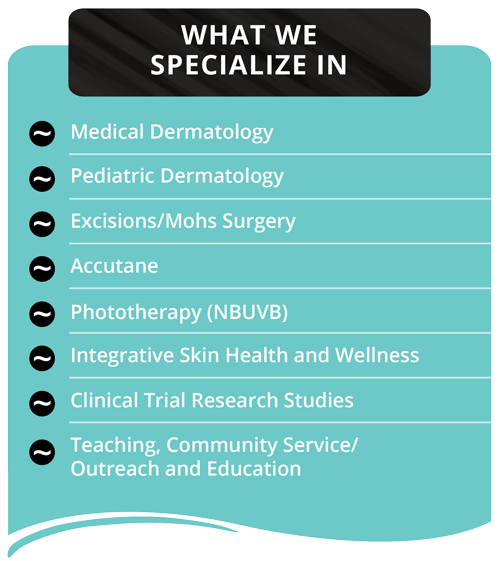 Our providers are national experts in psoriasis, acne, rosacea, eczema / atopic dermatitis, skin discoloration, skin cancer detection and surveillance, botanical, herbal, and natural treatment modalities. We have extensive experience in teaching, conducting research, and delivering the most innovative dermatological care available. We have lectured globally and published hundreds of research articles in scientific journals, textbooks, magazines, and medical education symposia.
We strive to make a personal connection with all our patients in an effort to provide the best dermatologic skin care in Northern California. Call to make an appointment with one of our top ranked practitioners today!
Take a look at our current clinical studies that we are conducting.
Check out our doctors' most recent scientific research publications.
Interested in participating or learning more about our upcoming clinical trials?
PERSONALIZED SKIN CARE BOUTIQUE
Natural Skin Care Products, Vitamins, Supplements, & Probiotics
DON'T KNOW WHICH PRODUCTS TO USE?
Find your skin type and learn about skin's tendencies, how to keep your skin balanced, and which products work best for you!
WHAT OUR PATIENTS ARE SAYING
A big round of applause to everyone who works here!
Ribsy Dibsy
They treated me very good and help me care for my skin.
Wayne Dailey
Great experience, the Doctors and staff were outstanding and were able to take care of my medical needs, plus answer all my questions. Thank you.
Jay Anderson
They are awesome! Very nice and accomodating..always get right in.
Michele Daedone
Great experience nicest people it all locations at Pacific skin institute just want to say thank you for all the help you go in worried and you leave there smiling thanks again.
Jeffrey Winters
Patient Centered Sacramento Dermatologist Near You We are excited to announce the opening of Pacific Skin Institute. We are board-certified dermatologists with offices in Sacramento and Folsom. The three of us have come together to build this practice so that we are both welcoming and patient-centered. If you are in the Sacramento or Folsom area, you might be wondering who
Read More >>>
Light Therapy for Psoriasis When you get right down to it, the sun is a critical component for most forms of life on the planet. Without sunlight, plants can't make the food they need to grow and thrive. Without plants, the cycle of life comes grinding to a halt. In short, sunlight is a pillar to life on Earth, and
Read More >>>