Come In Today or Set Up An Online Video Visit and See Why We Are The Top-Rated Dermatology Clinic In Sacramento.
Novel Coronavirus COVID-19 UPDATE
To our beloved patients and the surrounding community,
Pacific Skin Institute has been actively monitoring the novel coronavirus COVID-19 pandemic and its impact on health care. Per CDC guidelines, as a medical practice, Pacific Skin Institute will continue to require vaccinated and non-vaccinated individuals to wear a mask inside each facility. As we continue to serve patients who have skin conditions that need medical and surgical evaluation and treatment we ensure that your health and safety are our top priority.
We are taking utmost precautions by asking any patients who are experiencing the following to remain home:
For patients who are experiencing any of the above symptoms, are caring for sick family members, or would prefer to reschedule their visit, we will do all we can to accommodate you. To ensure continuity of care, we are offering LIVE VIDEO TELEDERMATOLOGY appointments from the comfort of your home as an alternative to in office appointments.
Call (916) 925 – 7020 for details or to set up your virtual Teledermatology visit. Our dedicated staff will continue to provide a safe and clean environment for our patients. We look forward to taking care of your skin care needs.
Thank you,
Pacific Skin Institute 
WELCOME TO PACIFIC SKIN INSTITUTE
We are a full spectrum adult and pediatric medical, surgical and cosmetic dermatology practice with unique expertise in integrative skin health and wellness and cutting-edge clinical trial research.

Our Physicians, Physician Assistants and Nurse Practitioner effectively care for all your skin health needs by integrating the most effective and latest prescription products and procedures, as well as, clinically proven herbal, botanical and natural treatment modalities.
This comprehensive approach allows our providers to tailor an individualized treatment plan for your skin health and wellness.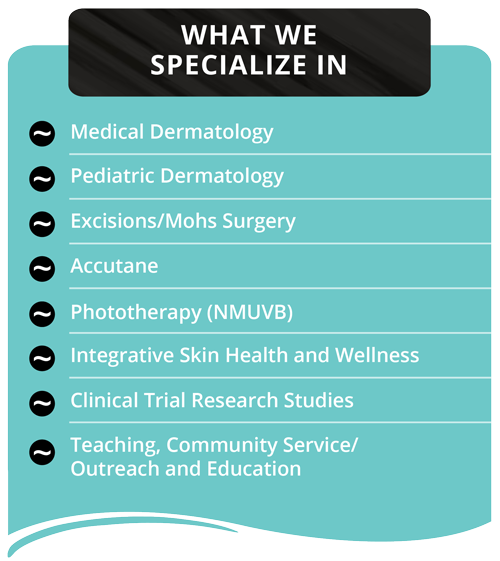 Our providers are national experts in psoriasis, acne, rosacea, eczema / atopic dermatitis, skin discoloration, skin cancer detection and surveillance, botanical, herbal, and natural treatment modalities. We have extensive experience in teaching, conducting research, and delivering the most innovative dermatological care available. We have lectured globally and published hundreds of research articles in scientific journals, textbooks, magazines, and medical education symposia.
We strive to make a personal connection with all our patients in an effort to provide the best dermatologic skin care in Northern California. Call to make an appointment with one of our top ranked practitioners today!
Take a look at our current clinical studies that we are conducting.
Check out our doctors' most recent scientific research publications.
Interested in participating or learning more about our upcoming clinical trials?
PERSONALIZED SKIN CARE BOUTIQUE
Natural Skin Care Products, Vitamins, Supplements, & Probiotics
DON'T KNOW WHICH PRODUCTS TO USE?
Find your skin type and learn about skin's tendencies, how to keep your skin balanced, and which products work best for you!
WHAT OUR PATIENTS ARE SAYING
Dr. Chambers is an amazing doctor. She took good care of my kids and resolved there skin problems when no one else could. I think she's amazing and the staff as well. Very nice and friendly. They are the best skin doctors in town and my kids loves her.
Eugen Antim
I recently started coming to see Cynthia Chambers for Rocasea and was so pleased with her and the whole staff, that today my husband also came to she Cynthia. He's a tough one to impress, and he was over the top with his praise of her attention to detail, knowledge, manner and making us feel like we were the only ones there.

Everyone that works there is so pleasant and helpful. Thank you to them all.
Pam Wessling
What a wonderful team! Everyone is super approachable and helpful. Nurse Practitioner Parul is hilarious and made me feel at ease immediately, and had all sorts of skin care tips that I will probably be using for years. Would definitely recommend!
Nicole Heidelberg
Best dermatologist office in the Sacramento area. My skin is sensitive and difficult, but they've been really helping me work on getting it healthy and back in good shape. I don't ever want to go anywhere else again for my skin care!
Anne F
I have had psoriasis for about 8+ years and I've gone to many different dermatologists and nobody has ever helped me the way Emerald has. I have been covering my arms and legs constantly and I hated showing my skin. Just one month after coming to this office 85% of my skin has cleared and I am way more self confident now and even the placs I have I'm no longer self conscious about. They make you feel at home and will fight for you no matter what Insurance You have. They are truly amazing!
Bethany Burtlow
Patient Centered Sacramento Dermatologist Near You We are excited to announce the opening of Pacific Skin Institute. We are board-certified dermatologists with offices in Sacramento and Folsom. The three of us have come together to build this practice so that we are both welcoming and patient-centered. If you are in the Sacramento or Folsom area, you might be wondering who
Read More >>>
Light Therapy for Psoriasis When you get right down to it, the sun is a critical component for most forms of life on the planet. Without sunlight, plants can't make the food they need to grow and thrive. Without plants, the cycle of life comes grinding to a halt. In short, sunlight is a pillar to life on Earth, and
Read More >>>