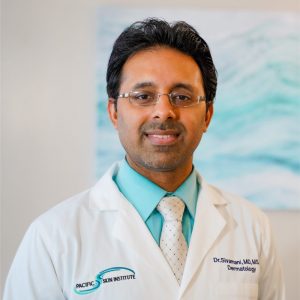 I am a native of the San Francisco Bay Area and a board certified Dermatologist. My expertise centers on general dermatology including medical, surgical, and cosmetic services. With training in bioengineering, Allopathic and Ayurvedic medicine, I merge modern research and science with a personalized approach to each patient. My training in Ayurvedic medicine lets me bring in a more humanistic approach to my patient care, science, and research.
I serve as the senior medical editor for LearnSkin, a skin educational website that delivers high-quality educational content on dermatology and integrative medicine.
Dr. Sivamani focuses on general dermatology that includes all aspects of skin care. He takes an integrative and holistic approach that is patient-focused and merges modern science and western medicine with nutrition, herbal medicine, and lifestyle centered practices. Some of the areas of treatment include:
Acne
Atopic dermatitis (eczema)
Psoriasis
Rosacea
Autoimmune conditions like lupus and bullous pemphigoid
Infections (Bacterial, fungal, and viral)
Drug skin reactions
Allergic skin reaction
Vitiligo
Warts
Dr. Sivamani focuses on integrative research that spans both clinical and medical dermatology. He has close to 100 peer-reviewed publications. He is interested in research that spans both Western dermatology as well as alternative medicine.
Common skin conditions such as acne, atopic dermatitis, rosacea, psoriasis
Pilot, phase 1, phase 2, and phase 3 studies
Gut and skin microbiome
Gut-skin axis and gut health
Herbal medicine
Cosmeceuticals and botanicals
Ayurvedic approaches to dermatology
Santa Clara Valley Medical Center
University of California, Davis
American Board of Dermatology