Surgical Dermatology is the treatment of cancerous and non-cancerous conditions of the skin, hair, and nails by various surgical, reconstructive and cosmetic methods to repair and/or improve the function and cosmetic appearance of skin tissue.
At Pacific Skin Institute, we treat benign and cancerous lesions with a variety of techniques. Dr. Raja Sivamani, Board Certified Dermatologist, focuses on an approach using surgical excisions as well as shave and punch biopsy removals to remove cancerous and non cancerous lesions. Dr. An Yen is our in-house Board Certified Micrographic Dermatologic Surgeon and performs Mohs Micrographic Surgery as well as surgical excisions.
TYPES OF SKIN CONDITIONS WE TREAT IN SURGICAL DERMATOLOGY:
Basal Cell Carcinoma (BCC)
Squamous Cell Carcinoma (SCC)
Melanoma Skin Cancer
Other Cutaneous Malignancies/Cancers
Lipomas
Epidermal Cysts
Pilar Cysts
Moles
Skin Tags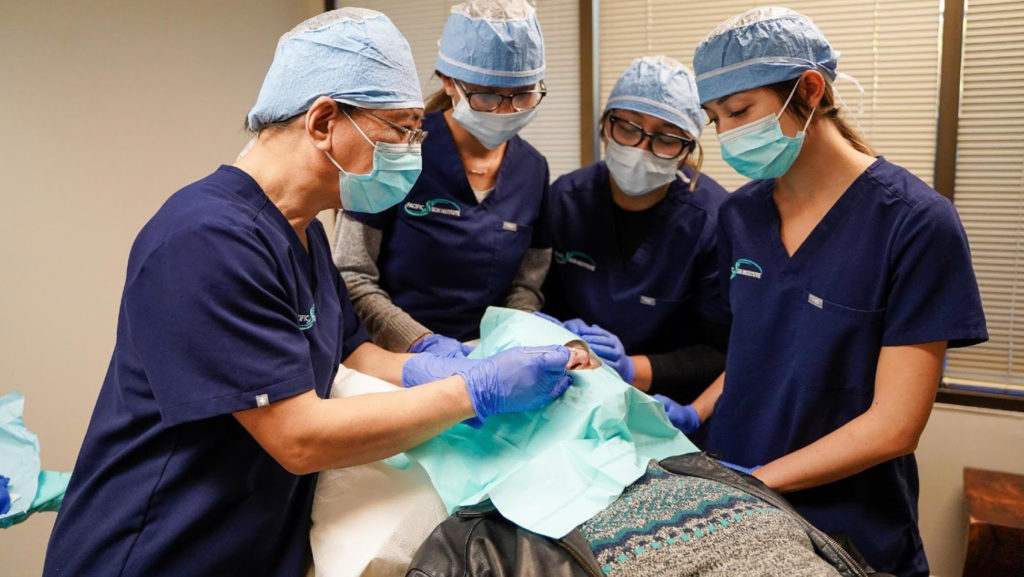 Excisional Surgery
Excisions are done on all parts of the body for cancerous and non cancerous lesions. During the surgery, typically, a large area surrounding the cancerous or non-cancerous lesion is removed and then closed up with sutures. The tissue is then sent to pathology to assure all of the cancerous tissue has been removed.
MOHS MICROGRAPHIC SURGERY
As the surgery is done on more sensitive areas of the body such as the face and neck, small layers of the skin cancer are removed at a time and examined under a microscope. This technique allows the removal of all cancerous cells while preserving the most amount of your normal skin and gives the highest cure while leaving the smallest possible scar.