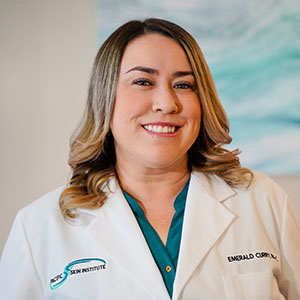 I believe in providing the best care possible to all of my patients because their needs and wellness matters greatly to me. It is important to listen to patients, as they know their body best, and I will always respect what a patient has to say. I will take into account all aspects of a person's life while treating them, as everyone is unique. I am honored every day that I have the privilege to help others obtain healthy skin at the Pacific Skin Institute. My personal skin care philosophy is to take good care of your body from the inside out, and great skin will follow. It is important to eat well, stay hydrated, and get plenty of rest. Listen to your body and stay in tune with what it needs.
Emerald's clinical interests include female hormonal acne treatment, integrative skin care, psoriasis treatment, atopic dermatitis treatment, skin cancer screening and treatment, and general pediatric and adult dermatology.
PA, Master in Health Services, UC Davis, Davis CA

BS, Health Science with a concentration in Pre-PA Studies, California Baptist University, Riverside CA
Board Certified Physician Assistant, recognized by the National Commission on Certification of Physician Assistants (NCCPA)
Emerald's research interests include the human microbiome, the gut-skin axis, probiotic and botanical utilization for wellness, integrative dermatology, hair loss, acne, atopic dermatitis, eczema, hidradenitis suppurativa, psoriasis, skin cancer treatment, and food deserts.
American Academy of Physician Assistants (AAPA)

California Academy of Physician Assistants (CAPA) 

Volunteers in Medicine Member